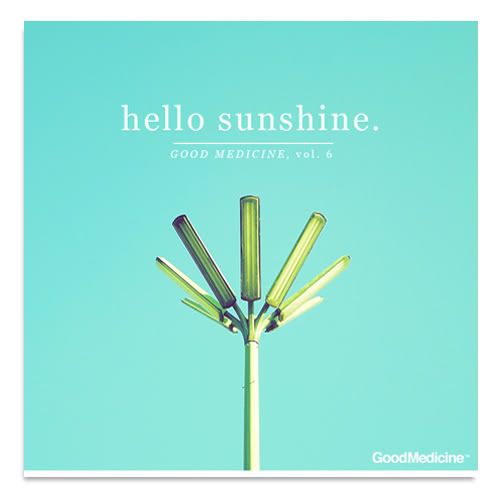 Ok, so March was a bad month for blogging. Lots and lots going on. But oh sweet heavens, spring is in the freakin' air my friends. And you try as you might, there is no way you can prevent yourself from rolling down the windows and letting all that new sunshine in. And in honor of that, along with everything else that spring brings, here's the sixth installment of Good Medicine. Enjoy. Over and over again.
1. Anna Sun – Walk The Moon
2. Weighty Ghost – Wintersleep
3. Lost Coastlines – Okkervil River
4. Go To Sleep – The Avett Brothers
5. Home – Edward Sharpe & The Magnetic Zeros
6. The Country Way – Shovels & Rope
7. Verb Noun – The Seedy Seeds
8. Get Over It – The Young Evils
9. There Goes The Fear – Doves
10. The Roost – Margolnick
11. The Human Condition – Jhameel
12. Animal – Miike Snow
13. Auto-Happy – Slow Runner
14. 5 Years Time – Noah & The Whale
15. Smile, It Makes This Easier – Fire Is Motion
16. Flee or Fight – Matrimony
17. History of Lovers – Iron & Wine and Calexico
18. Honey Baby – Damien Jurado
19. Hello Sunshine – Super Furry Animals

CLICK HERE TO DOWNLOAD

And in case you missed them before:
Good Medicine Vol. 1: Remember Me, Summer
Good Medicine Vol. 2: Summer Lights
Good Medicine Vol. 3: The Impossible Cool
Good Medicine Vol. 4: Hold Me Close, Keep Me Warm
Good Medicine Vol. 5: Quicken The Heart
* If you like what you hear, you had better go support these bands. If you're looking for free handouts, hit up a soup kitchen.
* Original cover photo by Matthias Heiderich.
*And if any of the bands on here don't want their music on the mix, just let me know and I'll remove it promptly. Thanks.
9 Responses to "Good Medicine, Vol. 6: Hello Sunshine"